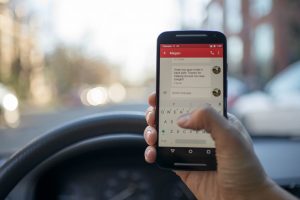 The top contributing factor to vehicle crashes throughout the country is distracted driving. The National Safety Council (NCS) also states that more than 700 individuals still get injured due to distracted driving crashes daily. The main goal of the Distracted Driving Awareness Month is to make everyone realize that driving comes with serious responsibilities that need our undivided attention every single time we get behind the wheel. 
Know The Facts
According to a National Highway Traffic Safety Administration (NHTSA) study, driver inattention can be defined as: 
Driver drowsiness

Engaging in secondary tasks

Driving inattention to the roadway ahead

Non-specific, general glancing away from the roadway ahead
The most common type of driver distraction in recent years is texting and cellphone use. The NHTSA study also found that almost 65% of near collisions and almost 80% of collisions involved drivers glancing away from the road ahead before the crash. The study also found the following to be true: 
Looking away even for two seconds doubles the risk of a near collision or an actual collision.

Driver inattention attributed to drowsiness increases the risk of near-crashes or actual crashes by four times or more.

Distractions, including dialing, talking at or listening to a handheld device, operating a PDA, retrieving or inserting a CD, eating, applying makeup, or reading, also increases risk factors of near-crashes or actual crashes up to three times. 

Drivers engaged in secondary tasks likewise increase their risk of accidents. 
Know The Laws
Data from the Fatality Analysis Reporting System by the NHTSA found that while overall traffic deaths were reduced from 2018 to 2019, fatalities related to distracted driving increase by as much as 10% in the same period. Fortunately, this trend regarding distracted driving crashes doesn't apply to Georgia, and this could be attributed to the state's hands-free law, which took effect in 2018. The law provides that: 
Drivers can't have their cellphones in their hands while driving or touching any body part while speaking on the phone.

Voice-to-text is permitted. But drivers can't send, read, or write text messages or email messages and look at social media or surf the net while driving. 

Drivers can't use electronic devices or phones for recording videos while driving. Only dash cams are permitted.

Drivers can't watch videos while driving. Only GPS or navigational videos are permitted.

Drivers can stream music without videos while driving. However, they still can't touch their cellphones while driving to activate the streaming app or program. Only streaming music that's listened through and controlled by the vehicle's radio is permitted. This means that if you're planning to stream music or podcasts, you should do so before hitting the road. 
Speak to The Georgia Personal Injury Attorneys of Slappey & Sadd Today
Were you injured in a motor vehicle accident because of distracted driving? Consult one of our Georgia personal injury lawyers to learn about the legal options specific to your case. Contact Slappey & Sadd at 888-474-9616 or fill out our online form to arrange a free consultation with one of our Atlanta personal injury attorneys today.