Brakes And Braking Systems: Overview
Lights and reflective devices are important at night, and may or may not make a difference, especially where adequate lighting is present.  Brakes, on the other hand, count every time the accelerator is pressed.  Indeed, few parts of a CMV are as critical or as clearly appreciated by everyone as good brakes.  A driver may not operate a CMV unless satisfied the brakes are in good working order, and brakes must be part of the inspection required at the end of every work day and documented in the Driver's Vehicle Inspection Report.  §§ 392.7(a); 396.11.  As with lights, the Regulations discuss brakes and braking systems in very technical ways.  There are multiple references automotive and engineering standards that may need to be translated into laymen's terms by an expert.
CMV Brakes And Braking Systems
1. A CMV must have service brakes, parking brakes and emergency brakes. Although they may be hydraulic or air brakes, the majority of large CMVs are equipped with air brake systems.
2. The standards applicable to the various types of systems depend upon the year of manufacture.
a. For newer vehicles, hydraulic systems are governed by FMVSS No. 105.
b. Air brake systems in newer vehicles are governed by FMVSS No. 121.
c. An automatic transmission cannot be used as a parking brake.
3. CMVs must have brakes which function at all wheels, though there are exceptions.Specifically:
a. Trucks manufactured before July 25, 1980 with three or more axles are not required to have front axle brakes.
b. Motor vehicles towed in a driveaway-towaway operation do not have to have operative brakes.
c. In both instances, however, the vehicle must have braking performance as set forth in regulations.
4. Trailers must be equipped with brakes that will stop the trailer if it breaks away from the tractor.
5. All brakes on a CMV must at all times be capable of operating, with certain exceptions, which include:
a. A CMV may be equipped with a device which reduces front axle braking as described in the regulation
b. A towed vehicle with disabling damage as described in regulation
c. Unladen converter dollies with a gross weight of 3,000 pounds or less
d. Loaded house moving dollies
6. All buses, trucks and truck tractors must have a warning gauge which warns the driver of a service brake failure, whether the failure occurs in the hydraulic, air or vacuum systems.
7. The following vehicles must be equipped with anti-lock brakes:
a. Trucks and buses manufactured after March 1, 1999
b.  Truck tractors manufactured after March 1, 1997
c. Any air-braked vehicle manufactured after March 1, 1998 that is not a truck tractor
Observations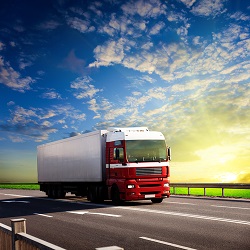 Issues of proper brake functioning arise in practically any case involving a moving CMV, and possibly some where a CMV was not moving, i.e., a case involving the effectiveness of a parking brake.  Expert guidance is essential in all but the most blatant brake failure case.  In proper cases, the expert may be a police officer, FMCSA official, or even a mechanic for the defendant carrier.  The weight and effect of reluctant yet nonetheless favorable testimony from one of the defendant's own employees is a strong weapon during settlement negotiations or at trial.
Pertinent Case Law
A CMV which falls below the criteria set out for braking systems is unlawful and may be declared out of service.  Natl. Tank Truck Carriers, Inc. v. Federal Highway Administration of the USDOT., 170 F.3d 203 (Ct.App.D.C. Dist. Ct. 1999).  Courts have also held that knowingly using a CMV with defective brakes is grounds for the imposition of punitive damages.