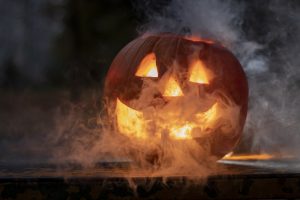 Halloween is a very fun and festive time, especially for families. From dressing up in costumes to going trick-or-treating, both children and parents have a lot to look forward to every October 31st.
However, it's important to be aware of the potential dangers associated with celebrating Halloween. Walking around dimly lit neighborhoods at night wearing dark colors and masks can greatly increase a pedestrian's chances of getting injured. To help keep your family safe, follow these safety recommendations. If someone in your family is injured, call us today to speak with an Atlanta pedestrian accident lawyer.
Walk Safely
As a pedestrian on Halloween, one of the most important things to focus on is crossing streets. Here are some tips to cross streets safely:
Cross at street corners, using crosswalks and traffic signals whenever available.
Before crossing, look left, right, and left again.
Keep looking for traffic while crossing.
Put down electronic devices, keep your head up, and walk (don't run) across the street.
Teach kids to never run out into the street.
Watch for turning vehicles.
When it comes to walking around, always walk on sidewalks or paths. If there are none, you should walk facing traffic and as far to the left as possible. Children should walk on routes with the fewest street crossings.
Accompanying children is a great way to ensure their safety as pedestrians. It is strongly recommended to join kids under age 12 for trick-or-treating. If your children have the maturity to go by themselves, remind them to stick to familiar, well-lit areas and to go in a group.
Safe Halloween Costumes
Costumes are another important part of Halloween safety. A few simple modifications can greatly reduce risks without sacrificing style.
If possible, select costumes with light colors and decorate them with reflective stickers or tape. Children should also carry flashlights or glow sticks to help them see and be seen by cars.
When choosing a costume, make sure it fits right to prevent your child from tripping or falling. Masks can obstruct a child's vision, so opt for makeup or face paint whenever possible.
Drive Cautiously on Halloween
Pedestrians are not the only ones that need to exercise caution on Halloween. Drivers should also be careful to make sure it's a safe holiday for everyone. To drive safely on Halloween, make sure to:
Slow down and be alert in residential neighborhoods.
Spend extra time looking for children at intersections.
Enter and exit driveways and alleys carefully.
Get rid of any distractions in your car (like cell phones).
Turn your headlights on earlier in the day.
Be especially alert for kids during popular trick-or-treating hours (5:30 PM to 9:30 PM).
Contact Atlanta Personal Injury Lawyers to Retain Legal Representation
It's possible to have a fun and safe Halloween by following these safety recommendations. Unfortunately, even when taking proper precautions, accidents can still happen.
If you or a loved one has been injured in an accident on Halloween, you should talk to an attorney right away. To schedule a free consultation, call us today at 888-474-9616 or use our online contact form.