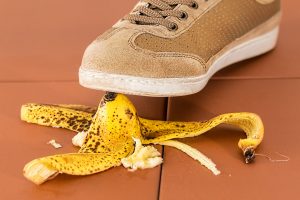 While most slip and fall accidents bruise nothing but our pride, some falls can result in serious injury. Property owners owe a duty to their guests and other visitors to ensure that their property is safe and free from hazards. In the event that the property owner negligently maintains his property causing someone to be injured, the property owner may be held liable for the victim's medical expenses, pain and suffering, and other losses.  
But what if you can't tell who owns the property? This issue can be somewhat complicated when a slip and fall injury occurs at a condominium or homeowners association.  
Condominiums
Condominiums often look like apartment buildings, but sometimes they might look like townhomes. The basic concept of a condominium is that each individual owner owns a "unit" and everything else is owned by the condominium association. To further complicate matters, what is considered as the "unit" can vary from building to building. For example, in some cases the balcony may be a part of the unit, while in others it might be owned by the condominium. Any property owned by the condominium is typically referred to as the "common elements."  The following are examples of condominium property that are typically common elements:
Parking lots

Sidewalks

Swimming pools or other recreational facilities

Lawns and other landscaped areas

Rooftops
The condominium association is responsible for maintaining the common elements to ensure everyone's safety, including the unit owners and their guests. Unit owners are typically responsible only for the interior of their units, although, again, there are many exceptions to this rule of thumb.  
As a result, where you are injured on the property will determine who is responsible. If you slip in a friend's bathroom and get injured, the condominium association is not at fault. However, if you slip on a wet floor in the condominium lobby, the condominium may be held liable.  
Homeowners Associations
Homeowners associations are easier to understand than condominiums. In an HOA, property owners own their home and the piece of property it sits on, typically referred to as the lot. In other words, you own your house and your yard. As a result, you would be liable for any injury that occurs as a result of your failure to maintain your property.  
However, HOAs are not just a collection of homes – what makes an HOA an HOA is that there is property owned in common, typically called the "common area." Here are some common examples of HOA common areas:
Private roads

Parks or "tot lots"

Tennis courts, pools, or other recreational facilities

Walking trails
Just like with a condominium, the HOA is responsible for the maintenance and upkeep of the common areas. Likewise, where you get injured will determine who may be held responsible.  
Ownership vs. Maintenance Responsibility
When dealing with condominiums and HOAs, you sometimes discover that one party may own the property, and another party is responsible for the day-to-day upkeep. This can complicate the liability question, as the owner of the property may be able to avoid liability since someone else was negligent in their maintenance responsibilities. One common example is snow removal – the HOA may own the sidewalks, but their covenants require the owners to clear the snow.  Sorting out these kinds of issues is one of the ways that a lawyer can really help with an "easy" slip-and-fall case.
Contact an Atlanta Slip, Trip, and Fall Attorney
Premises liability cases seem simple, but can actually be quite difficult. The lawyers at Slappey & Sadd help accident victims get the compensation they deserve. If you would like a free consultation about your case, contact us today – call us at 404-255-6677 or email us via our online contact form.