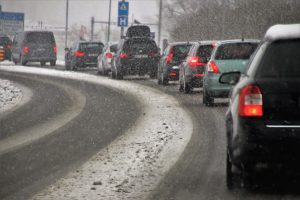 It seems hard to believe, but winter is right around the corner. Before we know it, the days will be shorter and temperatures will be dropping. Even though we don't get "winter" like some of our northern neighbors, winter weather can still result in accidents across the state of Georgia.  
At Slappey & Sadd, we help injured Georgians get the compensation they need to make a full recovery. We understand the games insurance companies play and know how to win. If you've been injured as a result of someone else's negligence and need help, call us at 404-255-6677 or visit us online for a free consultation.
Decreased Visibility
Winter weather in Georgia often means rain and fog. Combined with shorter days, these weather conditions can make winter driving especially dangerous. Unfortunately, drivers fail to take these hazardous conditions into account, driving as if it were a clear, sunny day. 
Of course, the shorter days also mean that people are often driving to work or driving home with the sun on the horizon. This can make it difficult to see the vehicle in front of you. This can often result in rear-end collisions when people tailgate or fail to reduce their speed accordingly. 
Failing to account for decreased visibility is negligence. If the other person was driving unsafely for the weather conditions at the time of your accident, they can be held accountable for your injuries.
Freezing Rain and Ice
Lower temperatures in Georgia means ice. Whether is water that has frozen overnight or freezing rain, ice can make ordinary life quite treacherous. Ice obviously leads to car accidents. If you were in a car accident caused by icy conditions, the other driver may be at fault for failing to reduce their speed and increase their stopping distance in light of the road conditions.  
Slip and fall accidents are also common when conditions are icy. You may have a claim for negligence if you slipped and fell on someone else's property. However, it's important to understand that the fact that there was ice is not enough – you will have to prove the following:
The owner of the property knew or should have known that conditions on their property were dangerous; and

The owner of the property could have reasonably taken some action to address the situation. 
For example, you may be able to hold a retailer liable for your injuries if you slipped and fell on the ice in their parking lot. They should have known that the parking lot was icy and dangerous for their customers and they could have easily addressed the situation. That said, slip and fall cases are more complicated than you might think, and a single fact can make a huge difference in the outcome.
Contact Slappey & Sadd – Georgia Personal Injury Lawyers 
If you've been injured as a result of someone else's negligence, contact the personal injury lawyers at Slappey & Sadd. We can evaluate your case and help you understand your options. More importantly, we'll fight for your rights so that you can get the compensation you deserve. Call us at 404-255-6677 to schedule your free consultation and learn more about how we can help you.