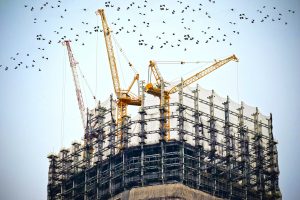 It's no secret that construction sites are among the most dangerous working environments. An employer or contractor's seemingly minor blunder or negligent act could lead to an accident and, in turn, result in injuries or death to one or more individuals. If you work in construction sites, you're probably well aware of the dangers and risks you're exposed to at work. With this in mind, it's crucial to know what to do in the unfortunate event that you experience an accident at a construction site. Here are four things to do following a construction site accident – for more information, call us today to speak with an Atlanta construction site accident lawyer.
1. Get Medical Attention Right Away
The first thing you should do after getting injured at a construction site is to seek medical help as soon as possible. This is very vital even if you think that you only have minor injuries because, in most cases, symptoms of severe injuries may not appear until several hours or even days after an accident. 
Also, treating your injuries right away, or at least having them diagnosed, is crucial to your recovery. Proof that you sought prompt medical help will also help your case when you seek worker's compensation or file a personal injury claim. 
2. Inform Your Employer or Contractor 
After addressing your injuries, you must report the construction accident as soon as possible. Prompt and formal reporting of the incident will help avoid unnecessary delays in processing your worker's compensation claim. A formal report of the accident will likewise make your construction site accident claim appear more credible in the eyes of the insurance company, your employer, and the court. 
When writing your report, make sure to include all the details of the accident. A well-written and detailed report will prove useful in case of a dispute later on. 
3. Collect All Necessary Information for Your Construction Site Accident Claim
Gathering as much detailed information as possible regarding your injuries and construction site accident will help make sure that you receive fair and prompt compensation. Some of the pertinent information you must gather includes: 
Statements and contact information of all the witnesses

Photos and/or videos of your injuries and the accident site

Your medical records

All correspondences with the contractor and/or your employer
4. Consult with a Personal Injury Attorney
When discussing your options with a personal injury lawyer, you'll learn about these two potential remedies for construction site accidents:
Worker's compensation insurance

. All employers are required to participate in a worker's compensation insurance program. This will be used for compensating employees who have been injured while working. 

Personal injury claim. In most cases, you can only file a personal injury claim against your employer if you've already received compensation via your worker's comp insurance. But, if your injuries weren't covered by worker's comp or if your injuries were caused by a third party, which is someone other than a co-worker or employer, you might be able to pursue a personal injury claim. A personal injury claim might also apply to bystanders who've been injured at construction sites. 
Seek Help for Your Construction Site Accident Claim, Talk to The Personal Injury Attorneys of Slappey & Sadd
Construction site accidents typically involve complex issues, mainly due to liability. Our Georgia personal injury lawyers can help figure out which legal remedies may be best for your case. Call Slappey & Sadd at 888-474-9616 or use our online contact form to schedule your free consultation.