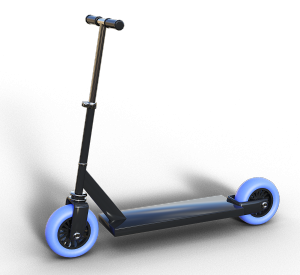 After publishing this post, we learned about a serious accident that happened here in Georgia earlier in November.
Taylor McCullough and Daniel Cooney, two Georgia Southern University students, were seriously injured in November when they were struck by a car while riding a Lime scooter. Their injuries were so serious that they were airlifted to Savannah for treatment.
The Accident
According to the Georgia State Patrol, McCullough and Cooney failed to yield when entering an intersection. The driver of the vehicle that struck them, Christopher Cutter, was reportedly looking down when he entered the intersection. By the time he looked up, he was unable to stop in time and struck the scooter with his car. McCullough and Cooney were ejected from the scooter, and one or both of them struck the windshield. Both McCullough and Cooney were thrown approximately 150 feet into the oncoming lanes of traffic. Mr. Cutter was reported to be traveling approximately 50 miles per hour and was able unable to stop his vehicle until 135 feet after the collision.
Serious Injuries
As mentioned above, both Cooney and McCullough were airlifted to Savannah for treatment. There are no reports concerning the extent of Mr. Cooney's injuries, but Ms. McCullough is reportedly lucky to be alive. She underwent surgery to relieve bleeding on her brain and suffered multiple fractures – a broken leg, broken cheekbones, a broken nose, and a broken pallet. She spent approximately one month in the hospital, during which time she had a breathing tube and a neck brace. Doctors were worried she wouldn't survive her injuries. Like most other scooter users, neither she nor Cooney were wearing helmets at the time they were struck.
Potential Legal Issues
There appear to be a number of legal issues involved in this accident. First, it sounds like the driver of the vehicle was distracted at the time of the accident, perhaps looking at his phone. Second, there is the question of whether he was exceeding the posted speed limit for the road where the accident occurred. As a result, he may have been negligent, and this negligence caused the accident. In turn, Cooney and McCullough may have a legal claim against Mr. Cutter for their injuries.
If it's true that Mr. Cooney and Ms. McCullough failed to yield the right-of-way, then their negligence may have contributed to the accident. Without more facts, it's difficult to say whether their negligence would completely prohibit them from recovering anything, or whether it was only a minor contribution to the accident. Could the accident have been avoided if Mr. Cutter were giving his full attention to the road? Was he exceeding the posted speed limit for the road?
And what if Cooley and McCullough couldn't stop due to a mechanical malfunction with the scooter?
Lastly, Ms. McCullough reportedly does not have health insurance. As a result, evaluating the financial impact of her claim may be dramatically different from most claims.
Slappey & Sadd – Atlanta Area Personal Injury Attorneys
Electric scooters seem like a harmless way to get around, but an increasing number of accidents suggest otherwise. Accidents like these can have life-changing effects. If you've been injured while riding an electric scooter, the experienced personal injury attorneys at Slappey & Sadd can help. Call us at 888-474-9616 or send us an email in order to schedule a free consultation with one of our attorneys.