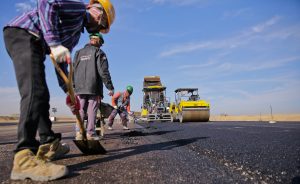 It's a fact of modern life: people are stressed out and in a hurry to get to work, get to school, or get to daycare. Mix in distracted driving, caused in large part by smartphones, and it's no surprise that there are so many motor vehicle accidents on our roads and highways.
The dangers are particularly acute for our highway workers. After declining for a few years, work zone crashes are again on the rise across the country. Work zone accidents are also on the rise in Georgia, both in terms of injuries and fatalities. In 2017, there were 20,834 work zone crashes in the state of Georgia, resulting in 55 fatalities and 7,276 injuries. These are the risks that highway construction workers face every day.  
Georgia Construction Zone Laws
Thankfully, the state legislature has enacted laws to reduce work zone accidents and protect construction workers. Motorists who break the law while driving through work zones can face heightened penalties.
"Move-Over" law

: Georgia law requires motorists to change lanes or slow down and be prepared to stop when encountering a vehicle with flashing emergency lights.

Distracted driving

: drivers are the age of 18 and school bus drivers are prohibited from using cell phones while driving, including hands-free devices. Georgia enacted a law this year that prohibits all drivers from using a hand-held device while driving.

Speeding

:

Georgia law

provides for heightened penalties when speeding in a work zone. Note that workers do not need to be present in order for these penalties to apply.
Of course, employers have an obligation to take steps to ensure the safety of their workers. Georgia requires construction companies to post signs that adhere to specific standards in order to warn motorists of the construction and that speed limits have been reduced.
Causes of Work Zone Accidents
Construction zones can create new and unpredictable traffic patterns that can be extremely dangerous unless motorists drive safely. The statistics show that most crashes were caused by vehicles leaving the road and rear-end collisions. The common causes of these types of accidents are due to three prevalent factors:
Distracted driving

Speeding

Driver impairment due to fatigue or being under the influence of alcohol or drugs
There are a number of ways that motorists can cause accidents by being negligent, some of which may not be illegal. For example, failing to keep up with the flow of traffic (assuming other drivers are obeying the posted speed limit) by driving extraordinarily slow can cause a rear-end collision. Drivers also sometimes ignore road crew flaggers or other signage which can also lead to accidents.
Contact a Georgia Work Zone Accident Attorney Today to Schedule a Free Case Evaluation
Our highway workers help us get to where we need to go, and so the attorneys at Slappey & Sadd are devoted to their protection. In addition, we should also note that these accidents pose serious dangers for other motorists, resulting in grave injuries and even death. If you or someone you love has been injured in a construction zone accident, our experienced personal injury attorneys can help you get the compensation you deserve. Call us at 888-474-9616 or contact us online in order to schedule a free consultation.