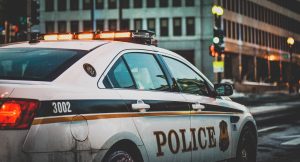 The Atlanta Police Department has just suspended one of its officers as a result of being indicted in connection with a car accident that occurred back in February of 2018. The officer, Dejoira Phillips, was responding to a 911 call when she collided with another driver, Lisa Williams of Atlanta. Ms. Williams lost her left arm when it was severed in the accident.
The car accident is not only a startling reminder of the severe injuries that can occur, but it also raises a number of questions that should be asked in any car accident case.
Who is at Fault?
The accident occurred at the intersection of Ralph David Abernathy Boulevard and Peeples Street. According to police reports, Ms. Williams entered the intersection on a green light at the same time Officer Phillips entered against a red light. Neither driver could see the other due to the surrounding buildings. Although she was responding to a 911 call, there appears to be no question that Officer Phillips is at fault for the accident.  
However, the accident raises deeper questions concerning who else may be responsible. She was driving her patrol car in the line of duty, but obviously entered the intersection unsafely. Had Officer Phillips received adequate training? Does the Atlanta Police Department have detailed protocols for disregarding traffic signals in the event of an accident? Does the Atlanta Police Department take steps to ensure that its officers are driving safely, even in the event of an emergency? Depending on the answer to these questions, Ms. Williams may have a strong argument for holding the City of Atlanta liable for her injuries.
The Value of The Victim's Claim
Prior to the accident, Ms. Williams earned her living as an artist. She now claims that she cannot work as a result of the loss of her arm. Obviously, she would have a claim for her lost income in addition to her medical expenses. Given the severity of her injury, there may be other injuries and losses that people may overlook:
PTSD, depression, or severe anxiety as a result of the psychological trauma resulting from the accident

Loss of mobility

Necessary equipment and modifications to her home to accommodate her disability

Modifications to her vehicle so that she can drive or other transportation costs
Ms. Williams is permanently injured and her life will never be the same. In cases such as hers, tt is critically important that the victim's claim be correctly evaluated.
Slappey & Sadd – Atlanta Attorneys Helping Car Accident Victims
Car accidents can be extremely traumatic, life-changing events. If you've been seriously injured in a car accident caused by someone else's negligence, the attorneys at Slappey & Sadd can help you get the compensation you deserve. We've been helping accident victims in the Atlanta area and across Georgia since 1992, and we offer our clients experienced, compassionate legal representation. If you'd like to schedule a free initial consultation with one our personal injury lawyers, give us a call at 888-474-9616 or fill out our online contact form.