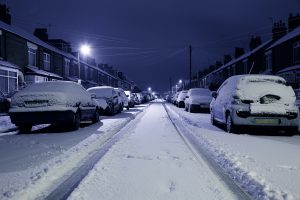 Georgians may not see a lot of snow, but that doesn't mean that we don't have to deal with hazardous winter driving conditions. If you get in a car accident this winter, many people will tell you that it was "just an accident," suggesting that no one is at fault. This isn't always the case, and if you've been injured, an experienced personal injury attorney can assess whether the other driver is at fault and help you get you the compensation you may be entitled to.  
In this post, we're going to cover some common winter driving hazards and how driver error may establish fault in the event of an accident.  
Snow Storms
Although somewhat rare, we do get snow from time to time that accumulates on the roadways. The most common mistake drivers make is driving too fast for the conditions. During snowy conditions, even driving the speed limit can result in a loss of control of the vehicle and cause an accident. Drivers should reduce their speed appropriately for the conditions in order to avoid fishtailing or sliding off the road.  
Another common mistake is when drivers fail to increase their stopping distance. Slick road conditions require more distance to stop the vehicle. By beginning their stop when they would under dry conditions, drivers either fail to stop in time, or panic, slam on the brakes, and go into a skid. This can be very dangerous, resulting in either rear-ending another vehicle or causing an accident in the intersection, or both.  
Freezing Rain & Ice on the Road
Freezing rain is a much more common occurrence than snow in Georgia, and arguably poses an even greater danger to drivers. Similar to snowy conditions, drivers need to increase their stopping distance and reduce their speed in order to maintain control of their vehicles.  
Poor Visibility
Rain, snow, and fog can significantly reduce a driver's ability to see the road and other drivers.  Again, drivers should reduce their speed and increase their stopping distance in order to be able to stop when necessary.  Winter also means less daylight, and drivers are often traveling to and from work at dark or at dawn and dusk. The time around sunset and sunrise can make visibility especially difficult.  
Most of us are sure to turn on our headlights in the dark, but many drivers don't realize that Georgia law requires that you use your headlights a half hour after sunrise and a half hour after sunset.  Georgia law also requires that you use your headlight while driving in the rain or any time when visibility is less than 500 feet.
Negligence
A driver is negligent when he or she fails to adjust his or her driving habits for the current road conditions. This could include driving too fast on icy roads, sliding through a stop sign, or driving at dusk with your lights off. If the driver's negligence causes an accident, he or she may be held liable for the victim's injuries and other losses.  
Contact an Atlanta Area Car Accident Lawyer Today to Schedule a Free Case Evaluation
Since 1992, the personal injury attorneys at Slappey & Sadd have been helping victims recover from car accidents caused by someone else's negli