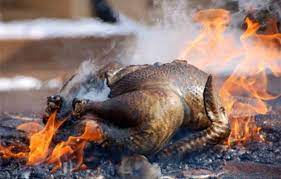 Holiday trees feature festive and colorful blinking lights. However, these same lights can lead to a fire if you're not careful or you overload an electrical outlet. The same can happen with outside lighting and decorations. This can be an issue during Christmas and New Year's when these jubilant and glowing lights are on display.
People also may burn candles during this time of year, which can also lead to a fire – turning a holiday celebration into a distressful, if not devastating, event.
According to the National Fire Protection Association (NFPA),  a lot of holiday fires happen during Thanksgiving as well, and originate while cooking. 
How to Safely Cook During the Thanksgiving Holiday
The NFPA offers suggestions for cooking safely during the Thanksgiving holiday. Below are tips you can follow that will make "Turkey Day" safer:
If you're cooking a turkey at home, check on it on a regular basis.

Don't leave the kitchen if you're cooking anything on a stovetop. This includes cooking like sauteing or frying or any cooking that requires ongoing attention.

Keep track of cooking times by using timers.

Make sure to keep items, such as wood utensils, wrappers for food, kitchen towels, and oven mitts, about three feet away from a burner or cooking space.

Don't wear fabrics that hang or long sleeves near a source of heat.

Always keep a lid next to a pan on the stove. If a fire is sparked, slide the lid over the pan and quickly switch off the burner. Don't remove the lid. Instead, allow the pan to cool fully. Don't use a fire extinguisher or throw water on the fire.

If a fire begins in the oven, turn off the heat immediately and keep the oven door shut. Only open the door when the fire is completely extinguished. Stand to the side when you open the door. If you have any worries or doubts, call your local fire department for help.

Supervise children in your home to stand at least three feet from the stove. Keep them away from hot liquids and foods. Any splashes or steam can trigger severe burns.
The NFPA adds that turkey fryers using cooking oil can lead to bad burns. As a safer alternative, the organization suggests buying a turkey that is fried from a restaurant or a grocery.
House Fires Happen the Most During Thanksgiving
It's important to follow the safety tips above, as research reveals that house fires occur the most often during Thanksgiving. In fact, firefighters in the U.S. responded to around 1,400 fires during Thanksgiving 2019.
Safe Decorating During the Winter Season
You can also reduce the risk of Christmas tree fires and electrical fires from decorations by taking the following precautions.
Preventing a Christmas Tree Fire
To prevent a Christmas tree fire, you need to do the following:
Water the base of the tree to keep it moist and prevent any danger of fire.

Make sure all heat sources–including candles and space heaters–are three feet away from your Christmas tree.

Replace any decorations or lights that have broken or worn-out chords or a loose bulb.

Only use lights that have been tested by a third party for safety.

Follow the manufacturer's safety instructions for stringing lights or adding decorations.

Always turn off your Christmas tree lights and decorations before leaving home or going to sleep. It may help to use an automatic timer so you won't forget.

Get rid of your tree before it has a chance to dry out after the holidays. Check with your area's recycling program for Christmas tree removal.
Preventing Decoration-Related Fires
To ensure you safely hang lighted decorations, take the following precautions:
Make sure extension cords are in good condition or are not frayed or worn.

Keep your candles at least a foot from anything flammable. If possible, use battery-operated candles instead.

Make sure your outdoor lights and decorations are plugged into circuits shielded with Ground Fault Circuit Interrupters (GFCIs) or circuits that are safeguarded with Arc-Fault Circuit Interrupters (AFCIs). Doing so can reduce the chance of fire by 50%.

Don't overload electrical outlets. Doing so can cause a circuit to overheat and spark a fire.

Don't link over three incandescent strings of lights together when decorating.

Use LED lights instead of incandescent lighting, as they are safer and cooler to the touch.
Call a Personal Injury Lawyer about a Burn Injury Claim
Decorating for the holidays is indeed fun and exciting. Just make sure you play it safe during your celebrations. If you have been the victim of a fire that was not your fault, you should contact a personal injury lawyer about your case. Contact Slappey & Sadd, LLC for a no-obligation and free consultation today. Call (888) 474-9616 to schedule an appointment at your earliest convenience.