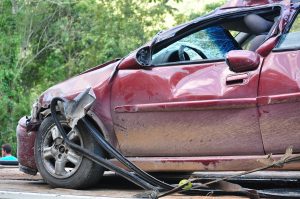 Car accidents are traumatic events that can result in very serious injuries. If you've been injured, you may be facing weeks and months of recovery or even permanent disability. You may be unable to work or enjoy day-to-day living. All of this can take a significant toll on your mental health, adding to the challenges you are already facing. 
The Georgia car accident attorneys at Slappey & Sadd believe that accident victims deserve to be made whole. We pursue compensation on your behalf for more than just your unpaid medical bills – we have the knowledge and experience to value your entire claim, including the psychological harm you may have suffered. If you've been injured and need someone on your side, contact Slappey & Sadd at 888-474-9616 to schedule a free consultation to discuss your case. 
Anxiety
It's quite common for people to experience feelings of anxiety after a car accident. If you're unable to work, you're probably worried about how you will support your family and pay your bills. You may be worried whether your injuries will allow you to live your life in the way you are accustomed to. Some victims experience acute anxiety every time they get in a car, making it difficult to drive or travel. The stresses that are caused by a car accident can easily result in an anxiety disorder and have significant impacts on your life. 
Depression
Car accidents can also result in depression for many people. Similar to anxiety, your depression may be the result of financial stress and an uncertain future caused by your accident. The more seriously you are injured, the more likely you are to experience depression. Even mild depression can cause serious problems, even jeopardizing your recovery. If you've been in an accident and are experiencing lingering feelings of sadness, please seek help as soon as possible. 
Post-Traumatic Stress Disorder (PTSD)
We have come to better understand PTSD in recent decades and appreciate the seriousness of this disorder. PTSD may look very similar to depression and anxiety and will typically manifest itself in one or more of the following four ways: 
You keep re-experiencing the accident or cannot stop thinking about it.

You avoid anything that reminds you of or is connected to the accident.

You suffer anxiety-like symptoms such as sweating, increased heart rate, or shortness of breath. 

You feel persistently sad or have recurring negative thoughts.
If you are experiencing any of these symptoms, speak to a medical professional as soon as possible. 
Don't Ignore the Symptoms of Mental or Emotional Trauma
If you're experiencing the following symptoms, they could be signs of severe emotional or mental trauma:  
Loss of appetite

Loss of sleep 

Lack of energy

Persistent feelings of sadness

Difficulty concentrating

Headaches

Anxiety

Thoughts of suicide or self-harm
It can often be difficult to acknowledge that something isn't right, but trust yourself and get the help you need. 
Contact the Atlanta Car Accident Attorneys at Slappey & Sadd   
The fallout from a car accident can go far beyond car repairs and medical bills. You deserve to be made whole, but you need someone who knows how to get the compensation you need.  If you're hurting and worried about your future, call us at 888-474-9616 or contact us online to schedule a free consultation and learn more about how we can help you.