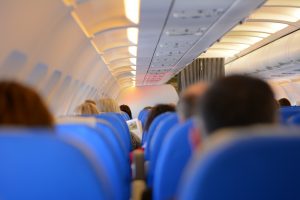 While airplane crashes make receive national media attention, many less serious accidents go unreported. Thousands of passengers are injured on commercial airlines every year. While some of these may be the result of an unforeseeable accident, some injuries are the result of the airline's negligence. 
If you've been injured on an airline, you may be entitled to compensation. The airplane accident lawyers at Slappey & Sadd can help you hold the airline accountable. We will work with you every step of the way to help you get back on your feet. If you've been injured and need help, call us at 888-474-9616 or contact us online to schedule a free consultation and case evaluation. 
Common Airline Injuries
Again, we mainly worry about the severe injuries and deaths that occur in a crash. However, in-flight injuries can occur in a wide variety of ways that we don't often consider. Here are some of the most common in-flight injuries:
Injuries due to tripping and falling

Injuries due to turbulence

Injuries caused by falling luggage

Injuries caused by rolling service carts

Injuries caused by hot liquid spills
Any one of these incidents can result in serious injuries, including severe lacerations, broken bones, and torn ligaments. Falling luggage, for example, can cause a severe concussion if it falls on your head. 
Proving Negligence
If you have been injured on a plane, an experienced airplane injury lawyer can identify whether the airline was negligent. For example: 
The flight crew failed to keep the aisles free from luggage straps or other debris that may present a tripping hazard for passengers. 

The captain failed to warn passengers of upcoming turbulence, resulting in a fall and subsequent injury while waiting for the restroom. 

The flight attendant failed to secure the overhead compartment, and luggage fell on you during take-off. 

The beverage cart was not properly secured and rolled over your foot, resulting in a fracture. 

You sustained severe burns when the flight attendant spilled another passenger's coffee on you. 
Whatever your injury, you will not be able to recover compensation unless you can prove that the airline or its employees failed in its duty to keep you safe. 
The Value of Your Claim
Many people who are injured on planes don't realize that they may be entitled to compensation or the value of their claim. If your injury was caused by the airline's negligence, you are entitled to be compensated for the following: 
Your medical expenses, both covered and uncovered by insurance

Any income you lost as a result of your accident 

Your pain and suffering
There may be other losses that you may be entitled to recover. An experienced airplane accident lawyer can determine the value of your claim to help you decide whether you should seek compensation  
Contact the Atlanta Airplane Injury Lawyers at Slappey & Sadd
The injuries sustained on an airplane can require extensive medical care and lengthy treatment, leaving you unable to work, take care of your family, or simply live your day-to-day life. The airplane accident lawyers at Slappey & Sadd can help you hold the airline accountable. Contact us for a free consultation by calling 888-474-9616 or filling out our contact form to discuss your case and how we can help.