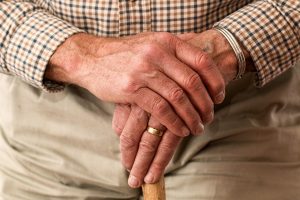 June 15th was designated as World Elder Abuse Awareness Day in order to shed light on this very serious problem. By some estimates, 1 out of every 10 elders will suffer some kind of abuse at the hands of the caregivers, and most of those cases will go unreported. The good news is that you can play an active role in keeping your senior safe. 

At Slappey & Sadd, we know that the decision to place your senior in a home isn't easy. That's why we work with our clients to hold negligent nursing homes accountable. We work with families in the Atlanta area and across the state of Georgia to help them get the care their seniors deserve. If you think your senior is the victim of abuse or neglect, call us at 404-255-6677 for a free consultation. 
Visit Your Seniors Often
If your senior is living in a nursing home or assisted living facility, visit them regularly. You can't identify the signs of abuse if you aren't there. When you visit them, make a mental note of the following: 
Is their room being cleaned regularly?

Are there signs of insect or rodent infestation?

Is the facility clean and in good repair? 

Are there environmental issues such as mold or mildew? 
While uncleanliness or poor maintenance is not necessarily a sign of abuse, it does suggest a lack of care, which is an environment where abuse or neglect can easily take place. Beyond the actually living accommodations, you also want to watch for the following signs:
Has your senior lost weight suddenly?

Do they have unexplained or untreated injuries?

Are they wearing clean clothes and bathing regularly? Or are they unkempt?

Is there noticeable tension between them and their caregiver? Does your senior seem to be fearful of people who work at the facility?
If you aren't local to where your senior is living, consider at least calling them regularly. If you have other friends or family in the area, you could also enlist their help to check up on your senior. 
Ask Lots of Questions
One of the reasons why abuse and neglect go unnoticed is that we assume that the nursing home is giving our seniors the very best care they can provide. This is not an unreasonable assumption – this is what they are supposed to be doing, after all. As a result, they will try to hide the truth of the situation in cases of neglect or abuse. 
As a result, you will likely need to probe below the surface to find the truth. For example, if your senior was injured and the facility says they fell, ask where and when the fall occurred. Ask who was with them at the time they fell. Finally, ask if they can take you to the spot so that you can see for yourself. If they don't have answers to these questions, it could be a sign that they aren't telling you the truth. On the other hand, they may not actually know what happened, which is a sign that they may be negligent in supervising the people under their care. 
Trust Your Instincts
Related to the section above, it's important to trust your instincts. If you suspect something isn't right, don't dismiss your suspicions. If you can't get answers from the facility, your best option may be to meet with an experienced elder abuse attorney. They can discuss your case and develop a strategy for making sure your senior is getting the care they deserve. If there is abuse or neglect, your attorney can then take steps to hold the facility accountable and get your family the compensation they deserve. 
Contact Slappey & Sadd – Atlanta Area Elder Abuse Attorneys
With decades of experience, our attorneys have the skill and knowledge you need to get the compensation you deserve. You know what's best for your senior – don't ignore your instincts. We can help you investigate your case and take steps to hold the facility responsible. If you'd like to learn more about how we can help you, visit us online or call us at 404-255-6677 to schedule a free consultation.