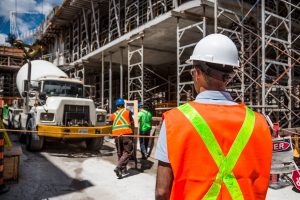 Living in a major metropolitan area like Atlanta, construction is unavoidable. There are constantly buildings being built, renovated, or torn down, and our roadways are under seemingly continuous improvement.
As a result as an Atlantan, the chances are good that you can be exposed to the various risks present at construction sites at some point – even if you are not one of the thousands of people who work at one. In the event that you are injured while at or around a construction site, there are a few things that you should do to protect your rights, which we detail below. For more information, call us today to speak with an Atlanta construction accident attorney.
Document the Incident
You should gather as much documentation as you can after an accident at or around a construction site. If you work at the site, make sure you inform your employer about the accident and fill out any necessary paperwork. If you do not work at the site, make sure an incident report is generated. 
Seek Medical Attention
You should always seek medical attention after a construction accident. It's important for both your health and your claim to have your injuries diagnosed, treated, and documented in a medical record. If you are a construction worker, keep in mind that you do not have to go to the physician recommended by your employer's workers' compensation insurer. You should also continue to actively participate in your treatment after your injuries are treated. Attend your physical therapy appointments, fill your prescriptions, and keep your doctor informed about your progress.
Do Not Accept a Settlement Offer without Seeking Legal Advice
After a construction site accident, you may receive a settlement offer from an insurance or construction company before you have a chance to speak to an attorney. Do not accept it. Initial offers are usually much lower than they should be, and it's very unlikely that you will be able to obtain additional compensation once you accept a settlement.
Consider Your Options
If you are a construction worker, you should be aware of the fact that you may be able to file a personal injury claim instead of a workers' compensation under certain circumstances. The reason this is important is that personal injury claims can provide compensation for losses that workers' compensation does not cover. Some of the scenarios under which you may be able to file a claim include if your accident was caused by defective equipment or the negligence of a third party (not another employee).
Call Us Today to Speak with an Atlanta Construction Accident Lawyer
If you have been injured on or around a construction site in the Atlanta area, you should call Slappey & Sadd today. Our lawyers will review the facts of your case at no cost to you and let you know whether you have a case. To schedule your free case evaluation with a construction accident attorney in Atlanta, call our office today at 888.474.9616 or contact us online.