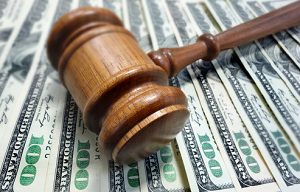 Eroding Limits and Exhaustion of Limits
Although policy limits generally constitute the boundaries of the insurer's indemnity obligations, most liability policies do not limit the amount an insurer must pay in defense of claims.  One way an insurer may limit defense costs and its overall exposure is through the use of "eroding" or "burning limits" policies. In these policies, defense costs erode indemnity limits.  In other words, every dollar spent on defense reduces by one dollar the amount available to settle or otherwise resolve the claim. Increasing numbers of professional liability policies and employment practices liability policies include eroding limits.  Although the idea is gaining popularity among automobile, homeowners' and commercial general liability policies, competitive markets in some industries and state regulations are likely to curtail expansive use of eroding coverage.
A similar situation arises when there are several claims, and the payment of one or more exhausts policy limits.  Whether an insurer has a duty to continue to defend its insured after policy limits have been exhausted is a contractual matter spelled out in the policy. Depending on the policy and the use of the limits, an insurer's duty to defend some claims may be satisfied by defending and accomplishing a good-faith settlement of other claims in a manner that provides a real benefit to the insured.