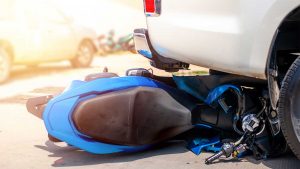 Motorcycles are a great way to get around and enjoy the ride in the process, but motorcycle accidents are some of the most dangerous traffic accidents. If another driver's negligence leaves you injured in a motorcycle accident, the first order of business is seeking the medical care and attention you need, but beyond that, you may be at a complete loss. Fortunately, there are four basic steps – that apply to motorcycle accidents across the board – to help you protect both your health and your accident claim, and reaching out to an experienced Atlanta motorcycle accident attorney is one of the most important.
One: Follow Your Doctor's Advice
It's critical that you carefully follow your medical team's advice and instructions. Doing so helps to ensure that you will recover to the fullest extent possible, but it also sends a strong message to the insurance company that you take your injuries very seriously and that you expect them to do the same. The insurance company is looking for virtually any reason to discredit or devalue your motorcycle accident claim, and if you fail to follow your doctor's instructions, it will translate your actions to mean that you are not as seriously injured as you say you are. 
Two: Consult with an Experienced Motorcycle Accident Attorney
As soon after the accident as you can, you should make the call to a dedicated car accident attorney who will take on all the following critical tasks on your behalf:
Compiling comprehensive evidence in the process of building your strongest claim

Hiring expert witnesses in support of your claim (as applicable)

Negotiating with the insurance company for a settlement that fairly addresses your damages

Thwarting any antics the insurance company may throw your way

Preparing for trial (in the event that the insurance company refuses to proceed in good faith)
Three: Remain Quiet about the Matter
The insurance company that is handling your claim will be getting in touch with you and asking for a statement, but the truth is that you aren't required to make one – and it is in your best interest to take a pass. The insurance company is well versed at tripping claimants up (and helping them to ultimately damage their own claims). For example, even saying, I'm sorry (which is human nature under the circumstances) can be twisted to mean that you're responsible for the accident. Make it your policy to refer the insurance company to your attorney – who is more than capable of providing them with the information they need. 
Four: Ignore Your Social Media Accounts (for the Time Being)
We all turn to social media to celebrate the good times and to lament the bad, but after being injured by another driver's negligence in a motorcycle accident is a good time to give Facebook, Instagram, and all the rest a pass. Again, the insurance company is watching and waiting for you to post something that doesn't mesh with your motorcycle claim – according to the insurance company – and to go to town with it. Taking a social media Time Out is the way to go. 
An Experienced Atlanta Motorcycle Accident Attorney Can Help
The formidable Atlanta motorcycle accident attorneys at Slappey & Sadd understand the gravity of your situation and are committed to assertively advocating for your claim's optimal outcome. To learn more, please don't wait to contact or call us at 888.474.9616 today.