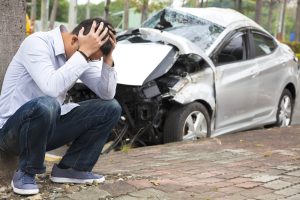 Motor vehicle accidents leave victims with injuries and scars that impact them for years to come, possibly even the rest of their lives. Many people do not consider that these victims are often left with invisible emotional scars. Sometimes the emotional distress that remains is worse than the physical and apparent injuries. Even minor accidents can cause lasting psychological damage.
Although emotional distress after a car accident is considered damage for which the plaintiff could receive compensation, it is difficult to prove. This is why you need an experienced Georgia personal injury lawyer who will do what it takes to increase your chances of fair compensation.
Car Accidents and Post Traumatic Stress Disorder
Post-traumatic stress disorder (PTSD) is often associated with members of the military returning from combat, individuals who have suffered abuse, or first-responders. However, multiple studies over several decades have revealed that victims in motor vehicle accidents can also develop PTSD, no matter how insignificant the accident might seem. Some studies estimate that 2.5 to 7 million people in the United States could be affected by MVA-related PTSD.
There is no denying that a car accident can cause PTSD. The problem lies with proving it in the plaintiff's claim. Physical injuries are often visible or can be diagnostically evaluated and proven. An x-ray can prove a broken leg, lab values can show liver damage, and physical assessments can reveal difficulty breathing or speaking. Unfortunately, emotional injuries are much more difficult to prove.
Substantiating a Claim for Emotional Distress or PTSD
If you are claiming emotional distress as a part of your damages, you cannot merely express that you suffer from psychological damage. You have to be able to back up your claim, but how do you do this? First, speak to your Georgia personal injury attorney about any emotional distress you have experienced concerning your accident. Your attorney can guide you to the next steps you should take and will likely suggest one or more of the following:
Get medical or professional psychological help
See a licensed psychologist, psychiatrist, or mental health therapist
If they suggested medication or counseling, be sure to seriously consider following their advice
Keep a journal documenting how you are feeling and how your symptoms impact your daily life and abilities
Seek help from your family or friends
Refrain from isolating yourself
Not only will these steps be beneficial for your emotional health, but they will also help substantiate your emotional trauma and its impact on your mental health.
Pursue Compensation for Your Injuries with a Skilled Georgia Personal Injury Lawyer
Even though proving your emotional injuries is challenging, our goal is to ensure you receive full compensation for all of your losses. We are proud to serve clients over the entire state of Georgia, including the cities of Atlanta, Roswell, Sandy Springs, Marietta, Smyrna, Decatur, Lithonia, Lawrenceville, Norcross, Columbus, Fort Benning, Covington, Augusta Lagrange Rossville Loganville, and Dalton. Schedule your free legal consultation with an experienced Georgia personal injury lawyer today. For your safety and convenience, we can provide consultations via phone or video conferencing. Call Slappey & Sadd, LLC at 404.255.6677, or use our convenient online contact form.