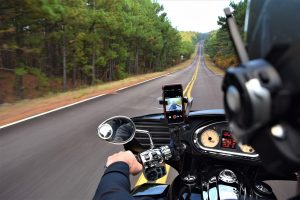 Motorcyclists face risks that other motorists do not. In response, states and localities have made legislative efforts and undertaken media campaigns to make our roads safer for those of us who enjoy riding motorcycles. Unfortunately, motorcycle accident statistics appear to be trending upward in the state of Georgia despite these efforts.
The Georgia motorcycle accident lawyers at Slappey & Sadd have been helping injured motorcyclists get the compensation they deserve since 1992. We have the knowledge and experience you need to put your life back together. If you've been injured in a motorcycle accident and don't know what to do, give us a call at 888-474-9616 or visit us online to schedule a free consultation. 
A Worrisome Trend
According to statistics reported by the Georgia Governor's Office of Highway Safety, motorcycle accident fatalities are trending towards their highest number since 2008, when there were 178 motorcycle fatalities. Below are the statistics since 2013, which was the year with the second-lowest number of fatalities since 2004. 
2013 – 116 fatalities

2014 – 137 fatalities

2015 – 152 fatalities

2016 – 173 fatalities

2017 – 209 projected fatalities

2018 – 264 projected fatalities
The percentage of motorcyclist fatalities among total traffic fatalities continues to hover around 11% but is projected to increase to 12% in 2018. Meanwhile, the number of unhelmeted motorcycle fatalities has been steadily declining, raising questions regarding the cause of these deadly accidents. 
Common Causes of Motorcycle Accidents
Because they are smaller than other vehicles on the road, motorcycles are less visible. Many motorists will tell you that they just didn't "see" the motorcycle there. Here are some of the common scenarios that result in motorcycle accidents: 
Following too closely

: motorcycles can stop much more quickly than a car.  If a car is following a motorcycle too closely and the motorcycle has to stop suddenly, it will be impossible for the car to stop in time in order to avoid hitting the motorcycle.

Left turns

: the car turns in front of a passing motorcycle or a motorcycle coming from the opposite direction.

Sudden lane changes

: the car moves into the motorcycle's lane, possibly without signaling, and causes an accident.

Passing accidents

: these occur when a car moves into an oncoming lane to pass another vehicle and didn't "see" the oncoming motorcycle.
In addition to these scenarios, many motorcycle accidents are caused when the other driver has been negligent: 
Speeding

Driving while distracted or drowsy  

Illegal lane changes

Driving while intoxicated
If you've been injured in a motorcycle accident, an experienced motorcycle accident attorney can help determine who was at fault and whether you are entitled to compensation.
Contact the Atlanta Motorcycle Accident Attorneys at Slappey & Sadd 
Motorcycle accidents can result in serious injuries and even death. If you or someone you love has been involved in a motorcycle accident, you may be entitled to compensation. The motorcycle accident attorneys at Slappey & Sadd know how to holder negligent drivers and their insurance companies accountable so that you can put your life back together. Call us at 888-474-9616 or send us an email for a free consultation – we can discuss your case, whether you have a claim, and how we can help.