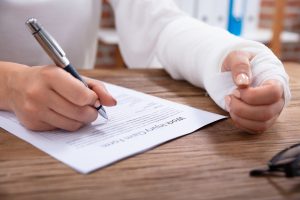 Workplace injury claims can be complicated because while workers' compensation is intended to prevent lawsuits against employers, there can be a number of major exceptions to this rule. You will want to hire an experienced Atlanta work-related injury lawyer when you believe that an injury sustained on the job will cause you to face multiple medical bills and lost wages.
If you suffered severe injuries or your loved one was killed in their workplace in Atlanta, make sure that you are quick to find legal representation. The Law Offices of Slappey & Sadd, LLC handles all kinds of workplace injury claims and knows how to help people recover full and fair compensation.
Our firm will be able to conduct our own independent investigation into your accident so you can be sure that the most solid evidence is presented at trial or used to help you achieve a suitable settlement. We invite you to call (888) 474-9616 or contact us online so you can take advantage of a free consultation and tell us all about your case.
Workers' Compensation Exceptions
The official website for the State of Georgia says that any worker who suffers injuries while performing assigned job duties during assigned work hours will be covered under the state workers' compensation program and eligible for benefits, but there can be major catches to this rule. The first and most obvious problem is when an employer does not carry workers' compensation insurance, in which case a victim can directly sue the employer.  
Other exceptions to the workers' compensation insurance program could include:
When a third party causes an injury, you can sue the third party, such as another driver causing a crash while you are driving for work

If an employer intentionally injures you, you could bring a case outside the workers' compensation system

When you suffer injuries from a defective product or a toxic substance, you could sue the product manufacturer
Common Kinds of Workplace Accidents
People can be harmed in a variety of ways in their workplaces. There are several kinds of accidents that can lead to devastating injuries.
Some of the most common kinds of accidents in workplaces in Georgia include, but are not limited to:
Slip-and-fall accidents

Electrocutions

Falling objects or struck by objects

Motor vehicle accidents

Overexertion

Falls from heights

Entanglement

Repetitive motion injuries

Workplace violence
These accidents have the potential to cause such workplace injuries as:
Traumatic brain injuries (TBIs)

Spinal cord injuries

Amputations

Burn injuries

Lacerations

Abrasions

Broken bones
Call Us Today to Speak with an Atlanta Workplace Accident Lawyer
Did you suffer major injuries or was your loved one killed in a workplace accident in the Atlanta area? The Law Offices of Slappey & Sadd, LLC can be your voice in the courtroom to ensure that you are properly compensated for all of your losses.
Our firm will diligently work to make sure that you are able to get a measure of justice for what you have been through. You can schedule a free consultation as soon as you call (888) 474-9616 or contact us online today.