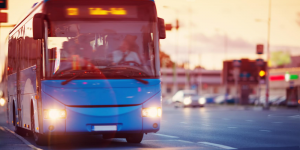 In August 2021, a Fulton County Superior Court jury awarded a woman $250,000 for her injuries while riding a Metropolitan Atlanta Rapid Transit Authority (MARTA) bus on Peachtree Street in Atlanta. The injuries occurred when the bus driver came to a sudden stop and the woman alleged that the bus driver negligently tailgated and failed to maintain an appropriate lookout and safely operate the vehicle. 
While we often think of bus accidents involving crashes that cause damage to other vehicles, the truth is that bus accidents can also happen during ordinary moments of operation. Always make sure you hire an experienced Atlanta bus accident lawyer for help pursuing a bus accident claim.
If you sustained serious injuries or your loved one was killed in a bus accident in Atlanta, you are going to need legal representation. The Law Offices of Slappey & Sadd, LLC represents individuals injured in all kinds of bus accidents.
Our firm will know how to investigate your case and secure all of the evidence necessary to ensure you are appropriately compensated for your injuries. You can receive a free consultation to discuss your case when you call (888) 474-9616 or contact us online today.
Common Kinds of Bus Accidents
Buses are large public transportation vehicles capable of carrying many people to destinations, so any accident a bus is involved in can lead to multiple people having injury claims. All of this is not to mention that in addition to bus passengers, some accidents may impact people outside buses.
Some of the most common kinds of bus accidents include:
Single-vehicle accidents in which buses collide with stationary objects

Multiple-vehicle accidents

Passenger injuries while entering and exiting buses

Collisions with bicyclists or pedestrians

Roll-over accidents
All of these different kinds of bus accidents can involve different liable parties. Depending on the specific circumstances of a given case, a bus driver, another driver, a bus maintenance company, or a parts manufacturer could all be held liable.
Causes of Bus Accidents
While this post specifically mentions MARTA, another very common kind of bus accident claim can actually be the traditional school bus that children throughout Georgia rely on to get to and from school on a daily basis. Bus accidents have the potential to cause a wide range of possible injuries and can also involve many different causes.
Some of the most common causes in bus accident cases include, but are not limited to:
Speeding

Driver fatigue

Inadequate driver training

Bus maintenance issues

Driving under the influence (DUI) of drugs or alcohol

Distracted driving

Other traffic violations

Negligent bus driver hiring 
Contact Us Today to Speak with an Atlanta Bus Accident Lawyer
Did you sustain significant injuries or was your loved one killed in a bus accident in the Atlanta area? You will want to be sure you speak to the Law Offices of Slappey & Sadd, LLC as soon as possible.
Our firm believes in making sure that all bus accident victims are fully compensated for all of their losses in any kind of bus accident. We will be happy to set up a free consultation with you when you call us at (888) 474-9616 or contact us online.