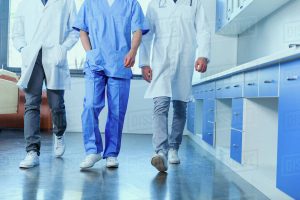 On March 24, 2022, WAGA-TV FOX 5 in Atlanta reported that a Hall County jury ruled Northeast Georgia Medical Center gynecologic oncologist Dr. Andrew Green committed medical malpractice in a case where his patient later died. The doctor and the medical center were ordered to pay $3 million to the victim's family.
On the day of that report, the Georgia Court of Appeals threw out the jury's decision, agreeing with the defense's assertion that the patient's estranged husband should have filed the lawsuit instead of what victim's mother and children. You can avoid these kinds of devastating rulings by making sure you are working with an experienced Atlanta medical malpractice lawyer when taking legal action.
If you suffered serious injuries or your loved one was killed by medical negligence in the Atlanta area, it will be incredibly important for you to have legal representation moving forward. The Law Offices of Slappey & Sadd, LLC represents clients throughout Georgia and offers more than a quarter-century of legal experience.
Our firm will know how to prove a medical malpractice claim and be capable of negotiating a settlement that truly covers all of your past, present, and future needs. You can call (888) 474-9616 or contact us online to schedule a free consultation that will let us review your case and discuss your legal options.
Time Limits on Medical Malpractice Claims in Georgia
It should go without saying that medical malpractice victims only have a limited amount of time to file a medical malpractice lawsuit. This time limit is otherwise known as a statute of limitations, and Georgia Code § 9-3-71(a) establishes that any action for medical malpractice must be brought within two years of the date an injury or death caused by a medically negligent or wrongful act or omission occurred.
An important note here is that Georgia Code § 9-3-71(b) further states that in no event can an action for medical malpractice be filed over five years after a date on which a negligent or wrongful act or omission occurred. That said, Georgia Code § 9-3-72 is the state law providing that Section 9-3-71 does not apply in cases in which a foreign object was left in a patient's body, but such cases must be filed within a year of the negligent or wrongful act or omission being discovered.
Other Requirements of Medical Malpractice Actions
Another critical aspect of a medical malpractice claim is that Georgia Code § 9-11-9.1 states that in any action alleging medical malpractice against a medical professional, company, or licensed health care facility, the plaintiff has to file with the complaint an affidavit of an expert competent to testify, meaning a qualified medical expert offering a sworn opinion regarding at least one negligent act committed by the health care provider being sued. Failure to file an affidavit of expert can lead to the dismissal of a medical malpractice lawsuit, but the court may allow you to fix the error and re-file the affidavit.
With the Georgia Tort Reform Act of 2005, the Georgia Legislature enacted caps on noneconomic damages for medical malpractice claims, including caps of $350,000 in actions against health care providers, $350,000 in actions against medical facilities, $700,000 in actions against multiple medical facilities, and $1.05 million in actions against multiple health care providers and medical facilities. The Georgia Supreme Court unanimously ruled on March 22, 2010, that the noneconomic damages cap in these cases was unconstitutional and violated the constitutional right to trial by jury in the Georgia Constitution.
Attorney for Medical Malpractice in Atlanta
Did you suffer severe injuries or was your loved one killed by medical malpractice in the greater Atlanta area? You will want to make sure you quickly contact The Law Offices of Slappey & Sadd, LLC.
Our firm will know how to thoroughly investigate your claim so you can present the strongest possible case in court. We invite you to call us at (888) 474-9616 or contact us online to set up a free consultation that will let us go over everything that happened and what you are dealing with right now so we can know the best way to proceed.