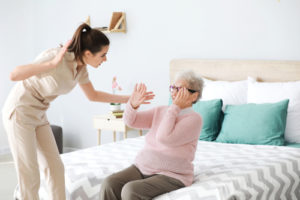 On June 2, 2022, the Atlanta Journal-Constitution reported that a Gwinnett County jury gave $2.5 million to family members of a 92-year-old woman who died following an ant infestation at her assisted living facility left her with stings across her body. Other stories over the past year have included WSB-TV reporting in March that a family was blaming a nursing home for their 90-year-old grandfather's death, WXIA-TV 11 Alive reporting in November that a caregiver was punished for recording an incident of another caretaker hitting an 89-year-old resident with Alzheimer's, pushing her head against a wall, and pulling the woman's frail body out of a wheelchair by her hair, and WXIA-TV 11 Alive also reporting in March that two nurses were heading to prison for failing to save a dying man seen begging for help on a hidden camera video nearly eight years ago.
The bottom line here is that nursing home abuse remains far more common than many of us are prepared to admit, and many families only seek to take legal action when it is too late. Any victim of nursing home abuse or the family of a victim should seek the help of an experienced Atlanta nursing home abuse lawyer for assistance in seeking financial damages in these cases.
If you sustained severe injuries or your loved one was killed by nursing home abuse or neglect in Atlanta, you are absolutely going to want to invest in legal representation for help pursuing your legal claims. The Law Offices of Slappey & Sadd, LLC can work closely with you so you do not have to deal with any aspect of your case by yourself.
Our firm knows how to perform diligent independent investigations into these incidents and then get real results for the victims. We believe strongly in helping people harmed by these kinds of cases and you can call (888) 474-9616 or contact us online to set up a free consultation so we can further discuss all of the specifics surrounding your case.
What Qualifies as Nursing Home Abuse?
Nursing home abuse and neglect is a phrase that can prompt any number of possible scenarios in a given person's mind. Some common forms of nursing home abuse generally include all of the following:
Physical Abuse

—

The general form of abuse that most people associate with the term. Nursing home residents may be victims of physically abusive practices by some staff members such as being punched or kicked by staff members.
Emotional Abuse

—

Always more difficult to identify because the signs of such abuse are not immediately visible in most cases. Some types of emotional abuse may include staff members isolating residents, yelling at residents, or otherwise taunting residents. 
Nursing Home Neglect

—

 

Many nursing home residents are left unattended for extended periods of time. Severe forms of neglect lead to medications not being administered as recommended, malnutrition, or residents simply living in dire conditions. 
Sexual Abuse

—

 

According to a

CNN

report in 2017, the federal government had cited more than 1,000 nursing homes for mishandling or failing to prevent alleged instances of rape, sexual assault, and sexual abuse at their facilities.
Financial Abuse

—

The residents of nursing homes are frequently at risk of mismanaging their own money or possibly having employees of the nursing homes steal money from them.
Construction Accident Liability
All people need to be aware of the most common signs of possible nursing home abuse or neglect. Some of the most frequent signs often include, but are not limited to:
Malnutrition

Bedsores or pressure ulcers

Depression

Bruises, burns, and welts 

Unchanged, filthy clothes or bed sheets

Lack of personal hygiene

Unexplained weight loss

Dehydration 

Unexplained sexually transmitted diseases (STDs)

Posttraumatic stress disorder (PTSD) symptoms

Fatigue, insomnia, or other sleep disorders

Substance abuse

Suicidal thoughts 

Illness or infection

Anxiety 

Broken bones

Cuts or lacerations

Head injuries

Dental injuries

Changes to the power of attorney

Opening new credit cards or bank accounts

Strange financial transactions or charges
Call Us Today to Speak with an Atlanta Nursing Home Abuse Lawyer
Were you or your loved one the victim of nursing home abuse or neglect in the greater Atlanta area? The Law Offices of Slappey & Sadd, LLC takes great pride in helping older adults get justice when they are not properly cared for.
Our firm is committed to getting real results in these cases that not only help victims but also help prevent more people from being harmed in the future. You can receive a free consultation to discuss your case when you call (888) 474-9616 or contact us online right now.