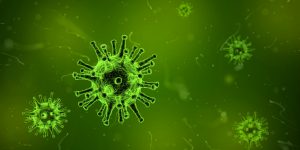 An alarming tragedy is unfolding in New Jersey – nine children have died as a result of a viral outbreak at a nursing home in Haskell, New Jersey. The New Jersey Department of Health has prohibited the facility from admitting any new patients until the outbreak has been resolved.
A Virus Associated with Communal Living
The illness that has caused the outbreak is an adenovirus, which is a virus that infects the linings of the respiratory tract and other membranes. It is believed that this particular strain of adenovirus is one that flourishes in communal living environments. It is reported that a total of 25 patients at the New Jersey facility have been diagnosed with adenovirus, which manifests itself as mild to severe cold-like illness. Unfortunately, adenovirus can then cause other illnesses, such as bronchitis, diarrhea, and even pneumonia.