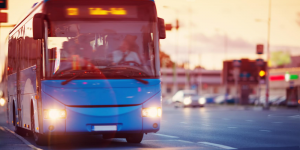 In August 2021, a Fulton County Superior Court jury awarded a woman $250,000 for her injuries while riding a Metropolitan Atlanta Rapid Transit Authority (MARTA) bus on Peachtree Street in Atlanta. The injuries occurred when the bus driver came to a sudden stop and the woman alleged that the bus driver negligently tailgated and failed to maintain an appropriate lookout and safely operate the vehicle. 
While we often think of bus accidents involving crashes that cause damage to other vehicles, the truth is that bus accidents can also happen during ordinary moments of operation. Always make sure you hire an experienced Atlanta bus accident lawyer for help pursuing a bus accident claim.
If you sustained serious injuries or your loved one was killed in a bus accident in Atlanta, you are going to need legal representation. The Law Offices of Slappey & Sadd, LLC represents individuals injured in all kinds of bus accidents.