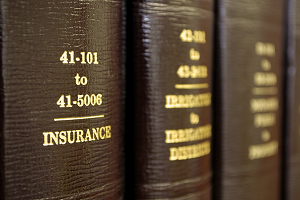 Other Issues Involved In Insurance Litigation
All litigation regarding an insurer's bad faith necessarily involves other issues associated with the law of insurance contracts and insurance coverage. For example, an insurer's bad-faith failure to settle under the common law may have its genesis in the insurance company's decision not to provide a defense to an insured, the lack of defense resulting in a large judgment in excess of policy limits. With respect to statutory bad faith, issues may arise as to whether the insurer's decision not to pay a property damage claim is caused by the insurer's failure to conduct an adequate investigation. Finally, any time there is litigation involving any type of insurance policy, certain issues – like timely notice – might come into play.
Duty To Give Notice And Liability Policies
An insured's failure to provide notice of a claim or of a lawsuit to its liability carrier can defeat coverage. The standard commercial general liability policy provides that "[i]f a claim is made or suit is brought against any insured," the insured must notify the insurer "as soon as practicable." Other policies might provide for "immediate" notice upon knowledge of a suit or claim. The Georgia Legislature has decreed that automobile liability policies shall require notice of a suit as well as delivery to the insurer of a copy of the summons and process. As suggested below, and as made more clear by a reading of the cases, different language in an insurance policy's notice provision can lead to different results. Accordingly, despite what courts before have decided, the insured's duty of notice must be analyzed in relation to the specific policy language and the applicable facts.
The purpose of notice is to inform the insurer of potential liability so that it may promptly investigate the circumstances, prepare a defense, or consider the prudence of payment, settlement or other resolution. Under certain circumstances, therefore, delay may prejudice the insurer's ability to control the defense of the case. If notice is a condition precedent to coverage under the policy, however, an insurer does not need to demonstrate that late notice caused prejudice in order to deny coverage. The lack of prejudice can, however, be a factor for consideration in determining whether notice is untimely under the circumstances. Also, "an insured is not required to foresee every possible claim, no matter how remote, that might arise from an event and give notice of it to his insurer. Instead, the law only requires an insured to act reasonably under the circumstances."
Where an insured has not demonstrated justification for failure to give notice according to the terms of the policy, and where the insurer has not waived compliance, the insurer is not obligated to provide a defense and coverage is void. In most cases involving an automobile liability policy, on the other hand, Georgia law requires the insurer to prove that late notice caused prejudice.
Although most policies require notice from the actual insured, a third party, including an attorney for the injured party, can give notice to the insurer of the action in order to prevent the insurer from raising a late-notice defense. "It makes no difference who gives the notice, so long as a reasonable and timely notice is given the company and it has actual knowledge of the pendency of a claim or suit." In Hathaway Dev. Co., Inc. v. Am. Empire Surplus Lines Ins. Co., the liability insurer received notice of the lawsuit from the claimant in accordance with O.C.G.A. § 33-7-15. Although the court noted that the statute applied only to automobile liability policies, the court nonetheless relied on older cases to rule that "[n]otice from [the claimant] was sufficient under [the insured's] CGL policy to fulfill the contractual condition of notice."
Notice to an insurance broker may not suffice as notice to the insurance company if the broker is an independent agent (or an agent of the insured) and the policy's notice provision does not extend such apparent authority to the independent agent. Georgia courts generally construe the policy requirements that notice be "prompt" or "as soon as practicable" as requiring that notice be given in a reasonable time under the circumstances. An insured cannot always wait to provide notice until after the repercussions of an accident become fully known and fully appreciated. Instead, it is the nature and the circumstances of "the incident and the immediate conclusions an ordinarily prudent and reasonable person would draw there from that determine whether an insured has reasonably justified his decision not to notify the insurer." Whether
an insured gives notice under a policy "promptly" or "as soon as practicable" is generally a question of fact for the jury and not an issue for summary judgment. If the undisputed facts and circumstances indicate that an insured's delay in giving notice was unjustified and unreasonable, the court may rule on the question as a matter of law."
Examples Where Notice Was Late
Under the facts and circumstances of the following cases, notice was late as a matter of law:
8 months – Southeastern Exp. Systems, Inc.v. Southern Guaranty Ins. Co. of Georgia
13 months – Briggs & Stratton Corp. v. Royal Globe Ins. Co.,
22 months – Aegis Security Ins. Co. v. Hiers, 211 Ga.App.
38 months – Brazil v. Government Employees Ins. Co.
52 months – International Indem. Co. v. Smith
70 months – Townsend v. Nat'l Union Fire Co.
5 years – South Carolina Ins. Co. v. Moody
25 years – Plantation Pipeline Co. v. Royal Indem. Co.
However, lapse of time alone is not sufficient to establish non-compliance with the notice provision. "In most cases, however, the reasonableness of a failure to give notice is a question for the finder of fact."