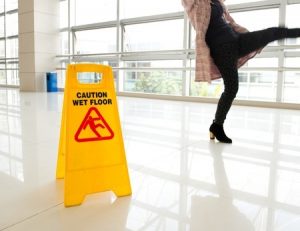 Slipping and falling can be exceptionally dangerous, and if you've been so injured as a result of a commercial property owner's negligence, your journey toward healing can be difficult. If this is the challenging position you find yourself in, one of the most important steps you can take to help protect your legal rights and your rightful compensation is retaining an experienced Atlanta slip and fall accident lawyer early in the process. 
Slip and Fall Accidents
Slip and fall accidents are far more dangerous than you may realize. Consider the following statistics shared by the National Floor Safety Institute (NFSI): 
Falls are the leading cause of hospital emergency room visits, and slip and fall accidents account for a full 12 percent of these 8 million visits yearly. 

5 percent of all fall victims fracture a bone. 

Slip and fall accidents are the number one cause of workers' compensation claims.
The CDC chips in with a few additional numbers to help emphasize the point:
More than 95 percent of all broken hips are the result of falling. 

The most common cause of traumatic brain injuries is falling.

The total medical costs for fall accidents across the nation in 2015 was $50 billion. 
Your Physical, Financial, and Emotional Losses
If a commercial property owner or manager's negligence causes you to slip and fall, the losses (or legal damages) you face can be overwhelming, including:
Medical costs that run the gamut from emergency care to surgery, rehabilitation, physical therapy, and more

Lost earnings that may include a decrease in your ability to earn over time

Physical and psychic pain and suffering
While your damages are very real, ensuring that they are all well represented in your slip and fall accident claim can be challenging and is a job that you are well advised to leave to your dedicated attorney. 
How Having a Lawyer Helps
Because your recovery will be very closely tied to your ability to recoup your losses, having a seasoned slip and fall accident lawyer handling your claim is always well advised. In fact, your lawyer will capably tackle all of the following tasks in support of your strongest claim:
Gathering all pertinent evidence

Negotiating for just compensation with the insurance company

Hiring expert witnesses (as applicable and necessary)

Preparing for trial (in the event it becomes necessary)

Helping you make the right decisions for you and your claim along the way
While you focus on your health and well-being, your slip and fall accident lawyer will skillfully advocate for your claim's favorable resolution – in support of your physical health and well-being.
Turn to an Experienced Atlanta Slip and Fall Lawyer Attorney for the Help You Need
The trusted Atlanta slip and fall accident lawyers at Slappey & Sadd dedicate their practice to successfully guiding claims like yours toward advantageous resolutions that uphold our clients' rights and best interests. We're here for you too, so please don't delay contacting or calling us at 888.474.9616 today.