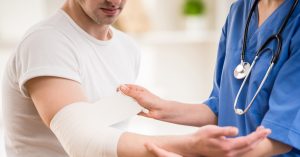 Slip and fall accidents can occur anywhere, from the front walkway at home to a grocery store parking lot. And injuries from fall accidents can range from sprains to broken bones to concussions. While some people may brush off these incidents as minor and not worth seeking medical attention, it can be highly dangerous to do so. In fact, it is vital to seek medical attention after a slip and fall for several reasons.
Injury Documentation
A trip to the emergency room after a slip & fall provides documentation of your injury, which is crucial in building a solid personal injury case. Medical examinations typically include X-rays, lab tests and other diagnostic evaluations that can be used as evidence in court to prove the extent of your injuries. This documentation will also help your doctor determine whether or not certain treatments or surgeries are necessary to address your injuries. Without a professional examination documenting your injuries, it could be challenging to prove that you were injured in the fall and that it wasn't just something that would have happened anyway.