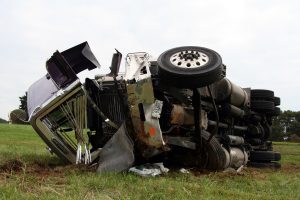 According to a report published by the National Highway Traffic Safety Administration last month, fatal accidents involving large trucks increased by 9 percent from 2016 to 2017. While this includes fatalities involving the occupants of the truck, the data reveals the shocking reality that large trucks pose to the public at large. In 2017, 841 truck occupants were killed in accidents, while those accidents resulted in 4,761 fatalities of other people. Interestingly, almost all other categories saw a decrease in accident fatalities, and none of the exceptions to that trend saw an increase as significant as the one associated with large trucks.  
The NHTSA hasn't published data for non-fatalities, but it's probably safe to assume that the overall number of truck accidents has increased. If you or a loved one has been injured in a truck accident, we'd like to take this opportunity to alert you to some of the unique issues involved.  
Truck Drivers – Encouraged to be Negligent?
Driver error is the leading cause in every category of motor vehicle accident, and truck drivers are no different. However, truck drivers do face a different set of challenges than most other drivers on the road. For example, many truck drivers struggle with fatigue.  They spend long hours on the road, far more than most drivers.
In addition, commercial truck drivers are usually under intense pressure to make it to their destination on time. As a result, they may be speeding or breaking other traffic laws in order to make up time lost to traffic or other delays.  
Of course, most truck drivers would prefer to driver carefully or simply take a break and get some rest. The problem is that their job requires them to be on time, make the delivery, or just keep driving.  As a result, many drivers feel that they have to do what needs to be done in order to keep their jobs.
How Trucking Companies Contribute to the Dangers
There are many companies that encourage their drivers to drive safely, but there are unfortunately many who do not. These companies may simply fail to ensure that their drivers are being safe, while others actually encourage unsafe driving. In either event, these trucking companies are in breach of their legal obligation to ensure their drivers are driving safely.  
In addition to promoting safe driving practices, trucking companies are also obligated to maintain their fleet in a good working order. Some truck accidents are caused by mechanical failures due to poor maintenance. You can imagine what may happen if a truck loses its brakes or steering.  
The trucking company may be held liable for your injuries if it has failed to either maintain the truck or ensure it's drivers are driving safely.  
Trucking Companies Are Corporate Entities
aim against the trucking company, it's important to be aware that you will be proceeding against a corporate entity. As a result, they may be reluctant to admit their fault and accept responsibility for your claim. They may engage in a number of tactics designed to protect their own financial interests at your expense.  And you can be certain that they will be represented by attorneys.
Contact a Georgia Truck Accident Attorney to Schedule a Free Case Evaluation
If you or a loved one has been injured in a truck accident, we recommend that you contact an experienced truck accident attorney as soon as possible. The attorneys at Slappey & Sadd have been helping truck accident victims in the Atlanta area and across the state of Georgia since 1992. If you'd like to schedule a free consultation with one of our lawyers, send us an email or call us at 888-474-9616.