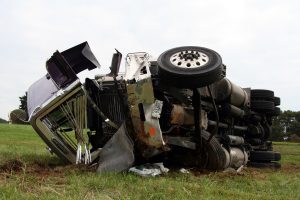 According to a report published by the National Highway Traffic Safety Administration last month, fatal accidents involving large trucks increased by 9 percent from 2016 to 2017. While this includes fatalities involving the occupants of the truck, the data reveals the shocking reality that large trucks pose to the public at large. In 2017, 841 truck occupants were killed in accidents, while those accidents resulted in 4,761 fatalities of other people. Interestingly, almost all other categories saw a decrease in accident fatalities, and none of the exceptions to that trend saw an increase as significant as the one associated with large trucks.  
The NHTSA hasn't published data for non-fatalities, but it's probably safe to assume that the overall number of truck accidents has increased. If you or a loved one has been injured in a truck accident, we'd like to take this opportunity to alert you to some of the unique issues involved.  
Truck Drivers – Encouraged to be Negligent?