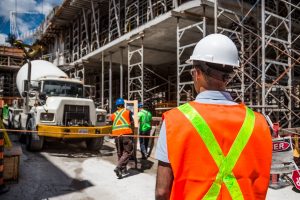 Workplace accidents injure thousands of people each year. In most instances, injured workers are entitled to benefits through Georgia's workers' compensation program. The good thing about workers' compensation is that you can obtain these benefits regardless of whose fault an accident was. In return for guaranteed benefits, injured employees are typically barred from suing after a workplace accident.
Unfortunately, this often results in uncompensated losses, as workers' compensation does not provide benefits for non-economic losses like pain and suffering or lost quality of life – damages that are typically available in a personal injury claim.
There are some situations, however, in which injured workers can file a personal injury claim after a work-related accident or incident resulting in injury. Some of the most common are listed below. For more information or to discuss the specifics of your case, call us today to speak with an Atlanta workers' compensation lawyer.
Accidents Caused by the Negligence of Third Parties
Georgia's workers' compensation law bars employee lawsuits against employers – not against other parties. If your workplace accident was caused by a third party, you may be able to file a lawsuit in order to recover damages. Some examples of workplace accidents that often allow victims to sue include:
Accidents caused by independent contractors

Motor vehicle accidents that occur within the course of an employee's job duties

Accidents involving defective work tools or equipment
Intentional Acts
In some cases, you may be able to file a personal injury claim for injuries caused by someone's intentional act while you are at work. In order to do so, the intentional act must be unrelated to the employment relationship. For example, if you were physically assaulted by a coworker because of a personal matter that did not have to do with work, you would likely be able to sue. If the altercation arose because of work performance, however, you would likely need to file a workers' compensation claim to obtain benefits.
Protecting Your Rights after a Workplace Accident
There are certain steps you should take after a workplace accident to protect your legal rights. These include:
Report your injury to your employer immediately

Seek medical attention and follow your treatment plan

Keep notes about how your injuries are affecting you

Do not discuss your injuries or accident with your coworkers or employer

Be aware of what you post on social media – certain posts could be used by the insurance company to justify a lower settlement offer

Do not accept a settlement before talking to a lawyer

Retain an attorney as soon as you can
Call Us Today to Schedule a Free Case Evaluation with an Atlanta Workers' Compensation Attorney
If you have been hurt in a work-related accident, you should speak with an attorney as soon as you can. At Slappey & Sadd, we will ensure that you obtain the workers' compensation benefits or compensation to which you are entitled. To schedule your free case evaluation with a workers' compensation lawyer Atlanta, call our office today at 888.474.9616 or contact us online.