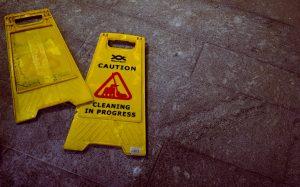 Workplace injuries are more common than you may think. In a news release issued earlier this month, the Bureau of Labor Statistics reported that there were 2.8 million nonfatal workplace injuries in 2017. Of those injuries, almost 890,000 required the employee to miss work.  
For many of us, missing work means lost income. The situation gets even more complicated if your injury leaves you partially or totally disabled, even if the disability is only temporary. And unfortunately, many of these injuries are preventable. As a result of ever-increasing pressures to be profitable, many employers become careless with regard to their employees' safety. Using statistics from the Occupational Safety and Health Administration (OSHA), we'll review some of the ways that employers routinely put the safety of their employees at risk.  
Inadequate fall protection and training.

Employers can violate OSHA regulations by failing to install guardrails, provide safety harnesses, or take other measures to guard against falls. OSHA also mandates that employers provide sufficient training to employees in order to help them avoid fall hazards.

 

Inadequate communication regarding hazards.

OSHA regulations require that employers that use or distribute hazardous chemicals provide workers with adequate and understandable information concerning the nature and hazards associated with the chemicals. Employers are also required to provide training to the employees to ensure that the chemicals are handled appropriately.  

Unsafe scaffolding.

OSHA has extensive regulations concerning the construction and use of scaffolding.

Failure to provide respirators or other breathing protection.

OSHA mandates specific requirements for when respirators must be used and standards for respiratory protection.

Failure to install or use safety features to prevent burns, electrocutions, and other injuries.

For example, employers may be required to install lockout mechanisms designed to automatically cut off the power to machinery in order to prevent injury.    

Unsafe use of forklifts

. Employers can violate OSHA standards by failing to ensure that employees are adequately trained and using forklifts in a safe manner.  

Unsafe practices when working with electricity.

OSHA has detailed regulations regarding the construction and use of electricity on job sites.  
When Employees Get Injured
While some job sites are more hazardous than others, every employee faces certain dangers wherever they work. Some accidents just happen, while others are the result of the employer's failure to adhere to government-mandated safety regulations. Employers who fail to abide by safety regulations may be negligent, and therefore may be held liable for your injuries. Unfortunately, employers rarely admit it when they are at fault, and may even go to great lengths to cover up their guilt.  
Contact an Atlanta Area Workplace Injury Attorney
If you've been injured at work, your employer might actually be working against you in order to deny your claim. You need someone on your side who will fight for your future. An experienced workplace injury attorney can evaluate your claim and help you understand your legal rights and your options.The attorneys at Slappey & Sadd have been representing victims of workplace accidents throughout the state of Georgia since 1992. We work with our clients every step of the way until they get the compensation they deserve. Send us an email or call us at 888-474-9616 if you would like a free consultation with one of our attorneys