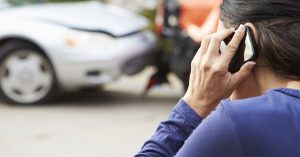 If a negligent motorist leaves you injured in a car accident, you have a lot on your mind. You have your injuries and medical care to concern yourself with – in addition to the lost income you may be experiencing as a result of those injuries. It is a lot, and the last thing you may want to take on is the additional effort of finding and hiring a car accident attorney. The good news is that a car accident lawyer can take the burden of dealing with the insurance company off your shoulders – while capably negotiating for a favorable claim resolution. The sooner you reach out for professional legal counsel, the sooner you can focus on your recovery – with the peace of mind that comes from knowing you have a skilled Atlanta car accident lawyer on your side. 
The First Order of Business 
If you have been injured by another driver's negligence, the first order of business is obviously obtaining the medical attention that you require. The fact is that you can be seriously injured without recognizing you've been harmed. The shock and adrenaline rush that accompany violent car accidents can mask the initial pain and early symptoms you experience, and some injuries – such as traumatic brain injuries (TBIs) and spinal cord injuries – can be asymptomatic in the beginning. After seeking medical care, the most important step you can take is reaching out to a seasoned car accident lawyer. 
Why Sooner Is Better than Later
The fact is that car accident claims are often complex legal challenges that take a considerable amount of time to resolve in a manner that addresses your losses in their entirety. Additionally, if the insurance company is not interested in negotiating a settlement that is fair to you, moving forward by filing a lawsuit is another important but lengthy process. By consulting with a skilled car accident lawyer sooner rather than later, you help to ensure that you have the time necessary to build your strongest claim – in pursuit of its most favorable resolution. 
How a Car Accident Lawyer Can Help
As soon as you connect with your car accident lawyer, he or she will ably tackle all the following critical tasks:
Gathering all the evidence relevant to your claim

Hiring expert witnesses who support the facts presented in your claim

Having accident models created in support of your claim

Clearly communicating with the insurance company on your behalf

Skillfully negotiating with the insurance company for a fair settlement that upholds your rights

Helping you navigate the claims process and make the right decisions for you along the way   
An Experienced Atlanta Car Accident Lawyer Can Help 
The practiced Atlanta car accident lawyers at Slappey & Sadd are well positioned and well prepared to help effectively and efficiently guide your claim toward its most advantageous outcome. For more information, please contact or call us at 888.474.9616 today.