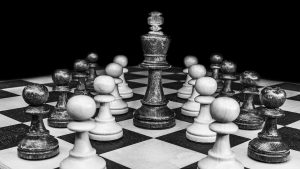 Motorcycles can be enjoyable vehicles to operate year-round in the State of Georgia. They can also be very dangerous machines. One of the most dangerous aspects of motorcycle riding is lack of protection. With the exception of their helmets, motorcycle operators and their passengers are directly exposed to the environment. If they fall from their motorcycles in an accident, serious injuries can occur.
Motorcycle operators and other motor vehicle drivers have a duty to operate their vehicles safely while on the road. When they fail to do so, they can cause accidents and serious injuries. If you have been injured in a Georgia motorcycle accident that you did not cause, let the experienced legal team at Slappey & Sadd, LLC assist you with your case today.
Our law firm represents motorcycle accident victims from all over the state, including Fulton County, DeKalb County, Gwinnett County, Muscogee County, Newton County, Richmond County, Troup County, Walton County, and Whitfield County. Let our experienced attorneys help you pursue the monetary compensation you need.
Common Causes of Georgia Motorcycle Accidents
Motorcycle accidents can occur for any number of reasons. In some instances, these accidents occur when motorcycle operators drive in a negligent, careless, or reckless manner by disregarding the rules of the road. At other times, these accidents happen when motorcycle operators are distracted by cell phones and other electronic devices. In those instances, when an accident occurs, an injured motorcycle passenger could bring a claim against the negligent motorcycle operator.
At other times, accidents occur when other motor vehicle drivers violate traffic laws or engage in distracted driving. When another driver collides with a motorcycle, serious property damage and personal injuries can result – especially when the accident occurs at a high rate of speed. Accident victims could then file a negligence claim or lawsuit against the other driver.
Burden of Proof
The burden of proof in a Georgia motorcycle accident rests with the injured accident victim. Specifically, the accident victim must demonstrate that the at-fault person acted unreasonably under the circumstances. The accident victim must also demonstrate that he or she sustained one or more personal injuries because of the accident.
Once the accident victim satisfies his or her legal burden in a motorcycle accident, then the accident victim could pursue damages. Because motorcycle accidents often result in serious injuries, accident victims may be able to claim several different types of damages, including the following:
Payment of medical bills

Compensation for lost earnings

Pain and suffering damages

Compensation for loss of use of a body party

Compensation for loss of enjoyment of life

Payment of future medical care and expenses

Compensation for loss of family support

Compensation for loss of spousal support

Wrongful death damages
Contact a Georgia Motorcycle Accident Lawyer Today to Assist with Your Case
If you have been injured in a motorcycle accident because of a motorcycle operator or another driver's negligence, call the skilled legal team at Slappey & Sadd, LLC to help you pursue financial recovery for your injuries.

To schedule a free consultation or case evaluation with a Georgia motorcycle accident lawyer, please call us today at 404.255.6677, or contact us online.