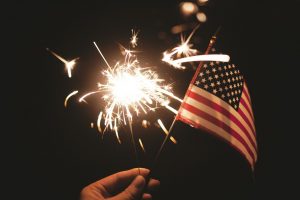 The Fourth of July is one of our favorite holidays – it's a great time to celebrate our nation with family and friends. Unfortunately, it is also one of the most dangerous holidays, especially when it falls on a weekend. Although it falls on a Thursday this year, there will still be a significant number of injuries and even deaths due to the negligence of others.
Founded in 1992, the personal injury law firm of Slappey & Sadd have the knowledge, skill, and experience to help you no matter how you were injured. We work with injured Georgians in Atlanta and across the state. If you've been injured and want to understand your options, contact us today to schedule your free consultation by calling 404-255-6677.
Drunk Driving
Statistics show that the Fourth of July is one of the most deadly holidays thanks to drunk driving. Driving while under the influence is obviously illegal, but it is also negligent – someone who gets behind the wheel while intoxicated is breaching their duty to other motorists to drive safely. As a result, they can be held liable for any injuries they cause by driving drunk.
And while it is likely that they will be charged with DWI and prosecuted for their actions, that doesn't mean that you cannot pursue a personal injury claim. The criminal prosecution does not preclude pursuing a personal injury claim. In fact, if they are convicted, it could help you prove your civil case.
Fireworks
Fireworks and the Fourth of July are inseparable. Unfortunately, fireworks can also lead to serious injuries. They can detonate prematurely causing severe injuries to your hands, face, and other parts of your body. People can also be burned at displays by falling, burning debris. Finally, fireworks can start fires, causing significant property damage and risking the safety of others.
Here are our tips for enjoying the fireworks and staying safe this Fourth of July:
If you will be attending a fireworks display, avoid the temptation to get as close as possible. Don't assume that you're safe just because you're in a designated viewing area.

Children and teens should never be left alone with fireworks. They should be supervised closely when fireworks are being used by an adult.

Purchase your fireworks from a reputable dealer, and understand what the products you are using are capable of.
Be aware that others may not be thinking about your safety or the safety of your children. Depending on the situation, they may be held liable for their negligence if you suffer an injury.
Water
For many people, the Fourth of July is best spent at the pool or at the beach. Anytime you are at the water there is a risk of drowning, especially for children. Wherever you are, some advance consideration and planning can help prevent an accident:
Are their lifeguards where you are swimming?

Is there rescue or lifesaving equipment?

Are you familiar with the facility or the conditions?

Can you identify any potential hazards?
Obviously, swimming in lakes or the ocean presents many more potential hazards. Being aware of your surroundings and the potential risks can help you avoid injury this Fourth of July.
Contact Slappey & Sadd – Atlanta Personal Injury Attorneys
No one wants to get injured, and no one gets injured to get rich. Nonetheless, you shouldn't pay the price for someone else's negligence. The attorneys at Slappey & Sadd can help you get the compensation you need to put your life back together. If you've been injured and don't know what to do, call us for a free consultation at 404-255-6677 or visit us online to discuss how we can help you.