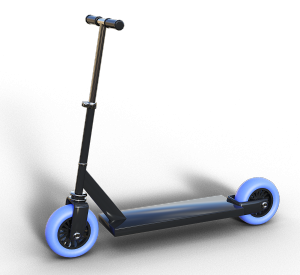 In an update to some of our prior posts, a 20-year-old man was tragically killed while riding an electric scooter – Atlanta's first fatality involving the trending means of "shareable" transportation. Eric Amis, Jr. was killed back on May 16th while traveling on West Lake Avenue by a Cadillac SUV. The driver of the SUV was arrested and charged with second-degree homicide by vehicle and speeding. Mr. Amis's family has since called for electric scooters to be banned from Atlanta's streets. 
We've been tracking the issues related to these scooters for a while in order to better serve the people of Georgia who suffer injury from their use. If you've been injured while riding a scooter, you may have a claim for compensation. Talk to one of the personal injury attorneys at Slappey & Sadd by calling 404-255-6677 or by filling out our online contact form. The first consultation is always free. 
Atlanta's City Ordinance 
Earlier this year, Atlanta passed a city ordinance in order to address some of the concerns and problems that had arisen involving the devices. Notably, the ordinance prohibited scooters from being ridden on sidewalks – forcing riders out into the streets and exposing them to the hazards of traffic. Some also argued that potholes and other unsafe road conditions made Atlanta's streets unsafe for scooters under any circumstances. In Mr. Amis's case, it seems that he was killed when the driver simply failed to pay full attention while driving, compounded by the fact that she was speeding. 
The Driver's Negligence
The driver, Narcory Wright, turned herself in once she was charged. She initially told investigators that Amis pulled out in front of her and that she tried to avoid hitting him but was unable to avoid the accident. However, the fact that she was later charged with homicide by vehicle and speeding indicates that the driver's negligence is the likely cause of the accident. 
When someone is injured or killed as a result of someone else's negligence, the victim or the victim's family is entitled to seek compensation for the harm they have suffered. In order to prevail, you need to prove that the other person failed to act with such care as would be exercised by a reasonable person in the same circumstances. In many cases, committing a traffic violation is almost negligence per se. 
A Potential Wrongful Death Claim
If Ms. Wright was in fact negligent, the family of Mr. Amiss may be able to pursue a wrongful death claim against the driver. This means that they could receive compensation for the "full value of the life of the decedent" under Georgia law. This could also include any funeral, medical or other expenses the family incurred as a result of Mr. Amiss's death.  
Injured on an Electric Scooter? Call Slappey & Sadd
Scooters are a fun and convenient way to get around the city. Unfortunately, many people find out about just how dangerous they can be only after they are in pain and suffering. Located in Atlanta and founded in 1992, our attorneys help people across the state of Georgia get fair compensation for their injuries. If you've been injured and would like to discuss your case, call us at 404-255-6677 or send us an email to schedule a free consultation and discuss how we can help you.