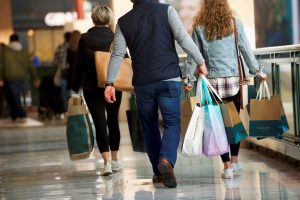 While the reference to "black" in "Black Friday" refers to the increased retail sales as they pertain to a balance sheet, it could also allude to a darker connotation. Deaths on "Black Friday" in stores prove that people may get too excitable, which can lead to deaths and injuries.
A Dangerous Retail Period
According to the New York Post, Black Friday may be a favorite shopping day for anyone hunting for bargains, but it also can turn into a tragedy. 
Both injuries and fatalities have occurred when people have shoved others or rushed into stores to buy coveted low-price items. In fact, one website, Black Friday Death Count, records the deaths that have happened, over time, during the retail holiday.
While stampedes and rough-housing have left people hurt and fatally injured, shootings, stabbings, and assaults have also contributed to injuries and fatalities. 
Auto wrecks can also be included in Black Friday incidents, when the desire for merchandise outweighs the importance of safety – both on the road and in the store.
Although alcohol is often blamed for holiday accidents, rushing or speeding and general recklessness can also happen during this bustling and busy shopping season.
The New York Post adds that 44 Black Friday events between 2006 and 2018 led to 11 fatalities and 109 injuries. For example, one victim's hip was shattered when a crowd thrust him into a retail display.
A Lucrative Retail Event
Moreover, Digital Trends reports that, during 2018, retailers made $6 billion in sales on Black Friday. That fact alone may be a major highlight; however, recorded Black Friday deaths and injuries show how the lowlights of the day–violence and recklessness–can make it dangerous to shop.
Wal-Mart Store Stampede – 2008
For instance, during 2008, shoppers stormed inside a Walmart store and crashed over a male employee. The worker, who was 34 years old at the time of the stampede,  died from his injuries. 
The crowd's erratic behavior also led to four people being injured, one of whom was a pregnant woman. During the melee, people scrambled to get on top of vending machines, and four other Wal-Mart workers were knocked to the ground.
Best Buy Skirmish – 2010
An incident closer to home–in Augusta, Georgia–took place on Black Friday in 2010 at a Best Buy store. A U.S. Marine reservist, Corporal Phillip Dugan, was stabbed outside the store when working as a volunteer at a Toys for Tots stand. 
Shooting in Parking Lot – Tallahassee – 2012
During a 2012 Black Friday event in Tallahassee, Florida, two people were shot after a disagreement about a parking space. The two injured people never made it inside the store to shop for Black Friday bargains.
Parking Lot Tragedy – 2016
During another Black Friday melee in 2016, Isidro Zarate, according to a Washington Post account, intervened when a man was pulling a woman's hair and beating her. The hair-puller reached for a gun and killed Zarate in a Wal-Mart parking lot.
As you can see, things can get out of hand on shopping expeditions during Black Friday. Therefore, you need to be especially careful when bargain hunting, parking, or driving on the highway or in town.
Call Us Today to Speak with an Atlanta Personal Injury Lawyer
Do you need to consult with a personal injury attorney? If so, contact Slappey & Sadd, LLC at 888-474-9616. If you get injured through no fault of your own, you need to understand your legal rights for personal injury claims. Call for a free, no-obligation consultation and appointment today.