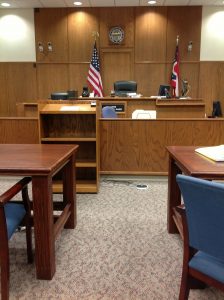 If you are involved in a car accident in the State of Georgia, it is important to remember that the at-fault driver's insurance company is never on your side. The insurance company's main goal is to offer the lowest possible settlement amount that you will accept in order to resolve your car accident claim. When that settlement offer just isn't enough, a personal injury attorney may recommend that you "roll the dice," so to speak, and consider taking your chances at trial.
Trials have both advantages and disadvantages. When you let the experienced Georgia car accident lawyers at Slappey & Sadd, LLC handle your case, we can explain all of your legal options and recommend whether trial might be the best option for maximizing your recovery.
We represent car accident victims throughout the State of Georgia, including in Fulton County, DeKalb County, Gwinnett County, Muscogee County, Newton County, Richmond County, Troup County, Walton County, and Whitfield County. Call us today at 404.255.6677, or contact us online to find out how we might be able to assist. 
What to Expect in Court
Sitting through one, two, or three days of a jury trial is not nearly as glamorous or exciting as what you see on televised courtroom dramas. Still, in cases where the insurance company is not offering you full and fair compensation to settle your case, going to trial might be your best bet. At a Georgia car accident jury trial, you can expect the following:
Voir dire –

a process where the court and the attorneys attempt to "weed out" potentially biased members of the jury pool, in order to select the fairest jurors possible

Opening statements –

where each attorney briefly summarizes his or her version of the case and what the trial evidence will show

Direct examination –

where the car accident victim will testify about the car accident, what occurred, and the injuries suffered in the accident. The accident victim may also testify about problems that he or she continues to have since the date of the accident. Fact witnesses may testify about how, in their observation, the car accident victim's life has changed since the date of the accident. Medical experts may also testify about the accident victim's injuries and permanency.

Cross-examination –

where the opposing attorney can ask the accident victim follow-up questions in an attempt to "poke holes" in the accident victim's case

Jury instructions –

where the judge tells the jury what law to apply when deliberating and reaching a verdict

Closing arguments –

where the attorneys make their arguments about what the evidence in the case either showed or failed to show
Speak with a Georgia Car Accident Lawyer Today
If you have been injured in a car accident, the experienced lawyers at Slappey & Sadd, LLC welcome the opportunity to litigate your personal injury case and take it to trial.
To schedule a free consultation or case evaluation with a Georgia car accident lawyer, please call us today at 404.255.6677, or contact us online.